This morning, I pootled along the M6 motorway in my tiny grey Hyundai while a cocktail of wind and rain thrashed at the wheels, violently buffeting the car. I'm used to the sway and general movement that happens to the car in these kind of conditions – and know better than to get close to HGVs when it's like that.
In January, there was a really bad night of rain, and driving home from Leeds I saw a lorry get caught in a gust on top of Barton Bridge near the Trafford Centre, and it fell onto its side. When I got home I posted this on tumblr:
While driving over Barton Bridge
Near the Trafford Centre
Above the sewage works,
After an hour on the road
With sheets of rain
Sticking to the sides
Of my Hyundai;
There was a lorry,
A blue tarped box
Sleeping on its side,
Lain across the motorway -
Covering three lanes diagonally
Like an incomplete tally mark -
I slowed the car to forty
And continued to drive
With massed brake lights
In my right wing mirror;
I reached home on time
Stopped my dog barking;
And searched twitter for 'M60 Lorry'.
The next day it turned out that the driver was fine, but the motorway had been closed and cars on the bridge held up for 2 hours.
Today, travelling South, approaching Junction 9 of the M6 (where Walsall's stadium is), I saw a blue banner flapping in the wind above the Northbound carriageway. As I looked, the banner peeled away from the gantry that displayed the changing speed limit signs, and was wrenched free from its fastenings. As it tumbled in turbulence, down towards the cars, I saw that it wasn't a banner, but a whole section of motorway signage.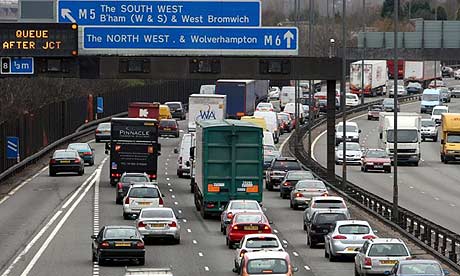 See that blue sign at the top? The right half of that. A big chunk of scary metal.
Luckily, no one seemed to notice it, and so no one swerved, and so any accident was avoided when the sign ended up missing any cars; carried far enough by the wind to land just past the hard shoulder, one corner all curled and torn where it had hung onto the gantry before being shorn clean off.
Crazy.