They say fashions come and go in cycles. This year, I'm hoping a 500 year phase will come full circle and bring back a long forgotten accessory that I feel deserves a resurgence.
The codpiece. A humble cock cover; a shlong sheath; an anaconda adornment; a hose hood, and many other terms that they most definitely didn't use in the 15th Century branches of Codpiece Warehouse.
For the uninitiated, a codpiece (in Middle English, cod meant scrotum) – plural, codpies – is a flap, pouch or pocket that could be found on the front region of trousers, covering and somewhat accentuating the genital area. They came about as 14th Century fashion changed – previously, men wore hose on their legs with linen drawers covering their willy and bum. As hemlines of doublets rose, the area became a little draughty and prone to public display (see below); hence, the codpiece was born.
"Alas! some of them show the very boss of the penis and the horrible pushed-out testicles that look like the malady of hernia in the wrapping of their hose, and the buttocks of such persons look like the hinder parts of a she-ape in the full of the moon. And moreover, the hateful proud members that they show by the fantastic fashion of making one leg of their hose white and the other red, make it seem that half of their privy members are flayed. And if it be that they divide their hose in other colours, as white and black, or white and blue, or black and red, and so forth, then it seems, by the variation of colour, that the half of their privy members are corrupted by the fire of Saint Anthony, or by cancer, or by other such misfortune."

- Geoffrey Chaucer, The Canterbury Tales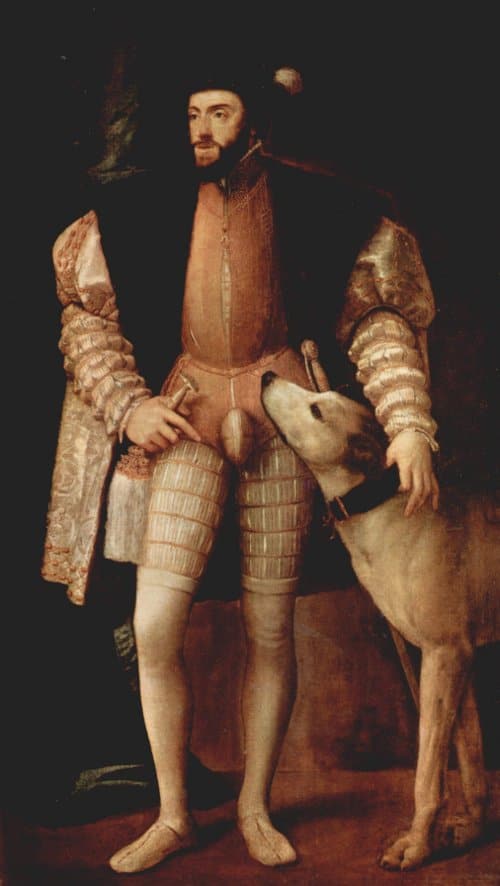 Handy for storing VD Ointment, loose change or Pedigree Chum.
By the 1540s, codpieces had reached the peak of their extravagance, becoming opulently shaped and padded tumescent tunic tumours. They snuck onto the armour of the time, too, despite the orb of bulging ballbag presenting a pretty obvious target for any macists (mace-wielders) on the field of battle. Henry VIII had a marvellous one. Unfortunately for lovers of baby's arm baskets, by 1590, they shrivelled and vanished, dropping off clothing like liquid nitrogened warts, rejected even by charity shops.
To our modern eyes, the gentlemen of the past, parading round with their privates in pouches, may seem a tad silly, a wee bit uncool – why on earth would we want to bring this back? Allow me to demonstrate:
Three reasons, there (the middle one is Sex Machine from Desperado/From Dusk 'til Dawn). Look how awesome they are. They're worn by murderers. They let you spray people with your willy-gun. They look like giant nappies/incontinence pads.
Imagine wearing one. Wandering into a room, all the men-folk gathered round a strumpet, a bold trull squawking about her luxury vajazzle, demonstrating how the light glints through the clitoral chandelier of stick-on glitterstones…and then…BEHOLD! A bejewelled bellend of Magellanic proportions, circumnavigable only by the bravest of adventurers, its heavenly girth illuminated with twinkling, gilded script, lit up like a petroleum Christmas tree, blinding the occupants with a magnesium burst, filling the room with joyous envy.
Then sit back and hand out your card.
Unfortunately, nowhere sells them, and none of my back issues of Seamstress Quarterly seem to contain a pattern. Still, I suppose we have jockstraps and poster paint, and where there's a willy, there's a way.
The Codpiece is dead. Long live the Codpiece.